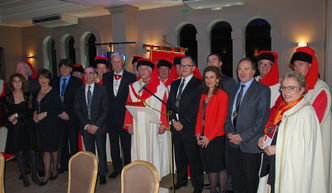 Truffles and wine of honor
This is a chapter of the Commanderie des Costes du Rhone, the 437 th, friendly and very sweet which was held in the rooms of Château de Rochegude the last day of February. A chapter under the sign of the truffle, the black course, the queen, the "tuber melanosporum".
As a prelude to the meal, a chapter of personalities inductions opened the evening. In turn were then inducted as knights, Gente Lady Anne Mouralis, President of the Companions of Côtes du Rhône and Director of Wine Competition Orange, Messires Bodescot Guy, General Manager of Distribution for Aéroports de Paris, Claude Busqueta, leader direct marketing business, Jean-Louis Davin, a urologist in Avignon, Jean-Michel Gautier, journalist, writer, critic Belgian Philippe Grison, Director General Regional Lyric Orchestra Avignon Provence, and Bruno Lacroix, Chairman of the Board Aldes monitoring group. The ceremony ended with the surrender of the cape of Officer of the Commanderie Murraciole in Florence, reporter who became the fourth woman in the world to have had that honor.
This is the chief and master of the house, Thierry Frebout who had concocted a menu based on the fungus so rare he cooks so well … .From the Croque Truffle cannelloni bass with mashed butternut the Black Pearl through the Chestnut Cappuccino to Rabasse Brillat-Savarin or black diamond, all the ingredients that combine with it, have been associated him to delight the taste buds of hundred guests who had come, attracted by the invitation.
Needless to say, the great wines of Côtes du Rhône wines selected by the Commanders have embellished this tasting white Châteauneuf at St. Joseph through the Vinsobres and Cotes du Rhone
La Commanderie more than ever aims to defend and promote the wines of Cotes du Rhone vineyard and culture. By associating the truffle she, oh, fulfilled its roadmap.
A Propos de l'auteur